Web control panel is designed for quick and easy management of (Dedicated & VPS) servers without the need to use ssh interface for every small thing,' according to the description of the CentOS Web Panel. This control panel, a Web hosting service in the online services area, has a ton of tools and options for managing servers. 
For a range of operating systems, including Linux, Self-Hosted solutions, Online / Web-based, Windows, and CentOS, there are more than 25 alternatives to CentOS Web Panel. The ideal substitute is cPanel. Try Cockpit Project or Vesta Control Panel if you're seeking a free alternative, because it's not free. ISPManager, Spanel, Plesk, and Cloudways are excellent applications like CentOS Web Panel.
CentOS Alternative Web Hosting Panels typically include server management tools, but they may also include web hosting services or web servers. If you want a more focused list of options or are looking for a specific CentOS Web Panel feature, you can filter by these.
Best CentOS Web Panel Alternatives
ZesleCP

Spanel

Plesk

ISPManager

Cpanel
Free Centos and Ubuntu Linux Web Hosting control panels are designed to make it simple and quick to operate (Dedicated & VPS) servers without constantly using the ssh terminal.
Users of ZesleCP easily handle every aspect of their business from a single dashboard because of its speed and security. The package provides a server configuration that provides prominent packages and services with a top-notch GUI. Additionally, it offers users a single-click interface via which they can add and manage the domain of their website.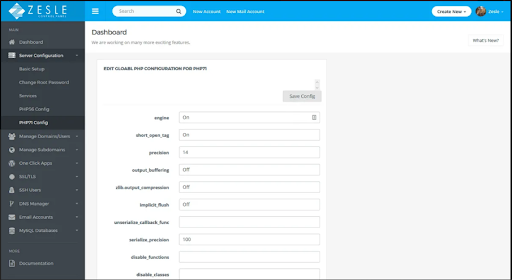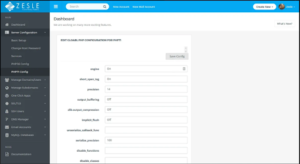 Users may quickly install and set up their applications using the platform with only one click. Additionally, users can quickly establish and maintain their databases and users thanks to its database management capability. It makes it possible for users to acquire unique email addresses for each of their websites.
ZesleCP enables users to set up privileged access for users and lets them create an unlimited number of FTP accounts. Additionally, it allows users to install, renew, and revoke their SSL certificates. Last but not least, it provides a file manager to assist users with all file editing operations.
ZesleCP Changelog: https://zeslecp.com/changelog/
Features:
Server Configuration

Domain/User Management, and Subdomain Management

One-click applications (WordPress and more)

SSL/TLS

SSH Users 

DNS Manager

Email Accounts

MySQL Databases

phpMyAdmin

Spanel
An easy-to-use CentOS substitute is SPANEL, which gives you control over your website. It provides an admin interface that enables account management on the web server. You can modify passwords and suspend or unsuspend websites with this program.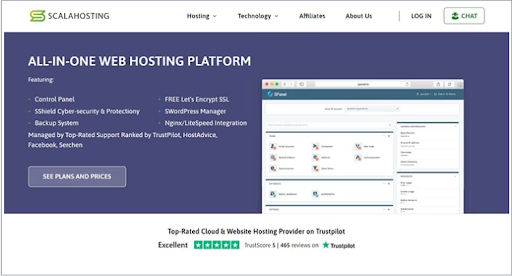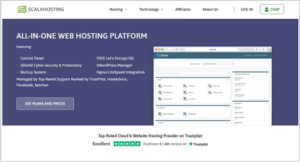 Features:
Nginx, Apache, LiteSpeed, and other web servers are supported by SPanel.

Allows for hassle-free website migration.

You may easily manage emails with its assistance.

This is quicker and lighter.

Offers free SSSL to any websites using SPanal as a hosting provider.

You may fast and easily select the desired PHP version with this.

Plesk
A web-based interface provided by Plesk, a web hosting solution, allows administrators to create new reseller accounts, websites, and email accounts.
Features:
It offers a central control panel to create and oversee several sites.

All platforms are compatible with the Plesk tool.

It provides a powerful and secure toolbox for WordPress.

Using SSH (Secure Shell), you can gain complete root access on a VPS (Virtual Private Server).

More than 100 extensions are available for expansion.

This tool offers strong network, app, and operating system-agnostic site and server security.

ISPManager
ISPManager is a web hosting and Linux server control panel for managing both dedicated servers and virtual private servers (VPS). One of the top free cPanel substitutes, it offers shared or reseller hosting services.
 Features:
The Linux server, together with Nginx and Apache, can be configured and managed.

You can configure spam filters for your domain and mailboxes.

To secure confidential information, you can install SSL certificates.

For CMS like Drupal, Joomla, and WordPress, it can be installed.

Backups are offered by this tool to external storage services like Amazon and Dropbox.

Installing the firewall is made possible using ISPmanager.

Without any trouble, databases can be created and stored.

Cpanel
For web hosts and the website owners they support, the cPanel and WHMCS module software package makes life simpler. It provides strong, user-friendly tools that swiftly, conveniently, and dependably do necessary tasks.


One of the most well-known web hosting control panels is cPanel. It gives website owners the ability to effectively administer their website using a single dashboard's web-based interface.
 Features:
File administration and backups

mechanism for controlling security emails

Management of databases

PHP and web server administration

observing bandwidth

Use key management and SHH

rapid deployment of software technologies like WordPress

administration of DNS