Have you been spending time on Pinterest? If so, it's easy to get lost in all of the concepts and ideas shared by other creators. Whether or not looking for inspiration from others when creating our content was what initially led us there is entirely beside the point!
The site has grown into such a diverse place – at least if your goal is just browsing different perspectives rather than making new things yourself- that finding someone with similar interests can be really helpful sometimes.
Moreover, videos on Pinterest are a thing now and are usually really great! Videos provide a different way to engage with content and can be a fun break from all text-based posts. It lets you see how people create things, learn new tips and tricks, and get a feel for different projects.
So, you must want to save them because you might want to check them out later or show them to someone. The only issue is that there is no easy way to download videos from Pinterest. For this, you need to use an external downloader. So, in this article, we will show you how you can download videos from Pinterest.
What are Pinterest Video Pins?
Pinterest video pins are just like any other pin on the site – they allow you to share ideas, inspiration, and tips with other users. The only difference is that instead of being an image, they are videos! These pins can be up to 15 seconds long and are a great way to show off your latest project, demonstrate how to do something, or show off a pretty place you visited.
These pins can provide you with a much more in-depth look at something than a regular image, which is why they can be so useful. You can get a feel for how something is made, see it in action, and get a better idea of what you might be able to do with it.
 In addition, videos are often more engaging than images, so people are likely to watch them all the way through. Not only this, but video pins are also more likely to be shared than regular pins, so they have the potential to reach a wider audience which can be helpful for your business.
How to Download Videos and Images from Pinterest?
Pinterest has become a treasure trove of inspiration and knowledge for everyone. But suppose you're trying to download videos from the site to your phone. In that case, it can be tricky depending on your device – especially since different browser extensions allow people to watch Pinterest content without reloading every few minutes! 
Therefore, to Download Pinterest Videos & Gif & Images Online, you need to follow these simple steps:
Sign in

to your Pinterest account and explore your feed for pins worth downloading

Select

the pin that you would like to save to your local drive.

Copy

the link

Go

to

Pinterestvideodownloader.io

 

Paste

the copied link in the download field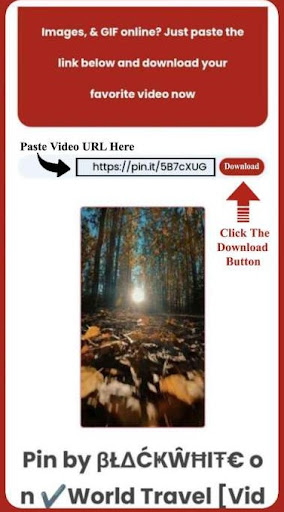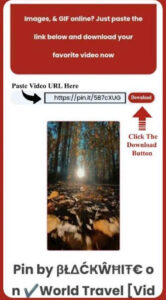 6. Click the download button
Conclusion
Well that was it. I hope you've found this post useful and now you'll be able to download videos images from Pinterest without having any issues directly to your phone gallery.