Most users clean Windows' Recycle Bin when they need more storage space in their computer. Whereas another possibility may be that careless activities and system failures on the computer or media might lose vital data. Since files are routinely destroyed without a trace, the Recycle Bin isn't always useful. This issue mostly affects flash drives and other media that must be formatted due to failures. However, there can be cases when you need some of permanently deleted files. So, the need arises to restore files from the Recycle Bin.
Using a third-party program like iTop Data Recovery is the best way to get deleted files back from the recycle bin. iTop is available for free to everyone. This article explains why and how to recover an empty Recycle Bin by using iTop Data Recovery being one of the best tools in the market.
What does iTop Data Recovery do?
iTop Data Recovery is a free, high-quality, and easy-to-use tool for recovering accidentally lost files. Windows users only have access to this application. The firm behind this program says that this software is completely safe and has one of the best data recovery success rates.
Deep Scan mode 
Not all files can be promptly located using the wizard. Hidden on the hard disk or portable device are certain files that have been removed. Deep Scan mode should be used at this point (deep scan the entire computer). This comprehensive examination by iTop Data Recovery will uncover everything that can be recovered from the drive's bits and bytes. However, scanning time will be greater if you have the capacity to do broad and deep scans. It all comes down to how much storage space you have and what device you're using.
Supported file formats
Not all tools designed to locate and recover accidentally deleted data are effective in doing so. This is not an issue with iTop Data Recovery. Almost every popular file format and file type is supported by the program. Files of the following kinds may be read and written: images, videos, documents, compressed files, etc.
Preview before recovering
The tool lets you choose which files to restore in advance, saving you time spent looking for and recovering those that aren't needed. The "All Data" option might be used if you don't know what sort of files you need to restore.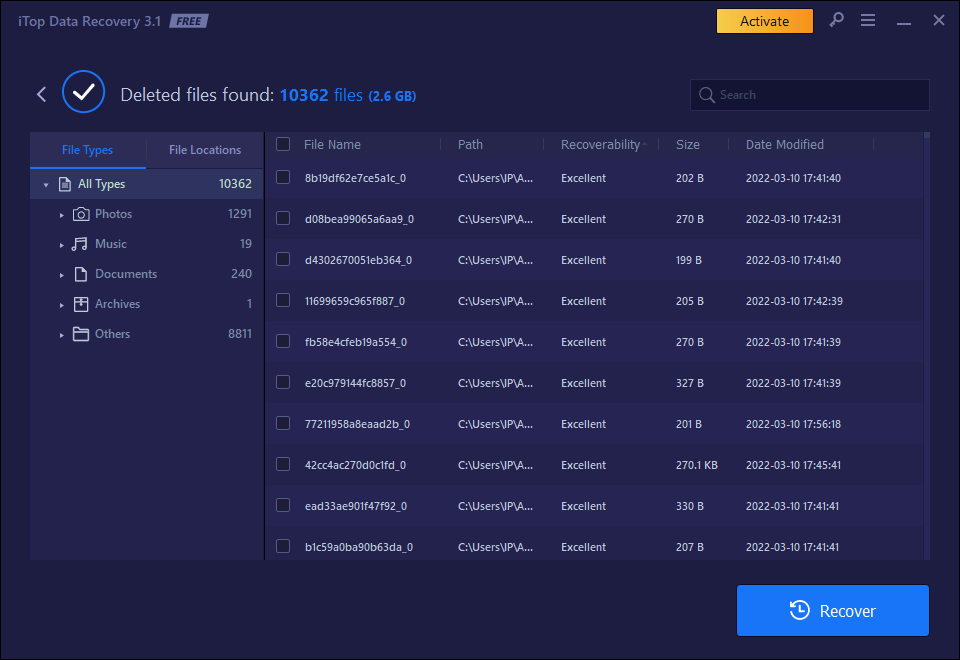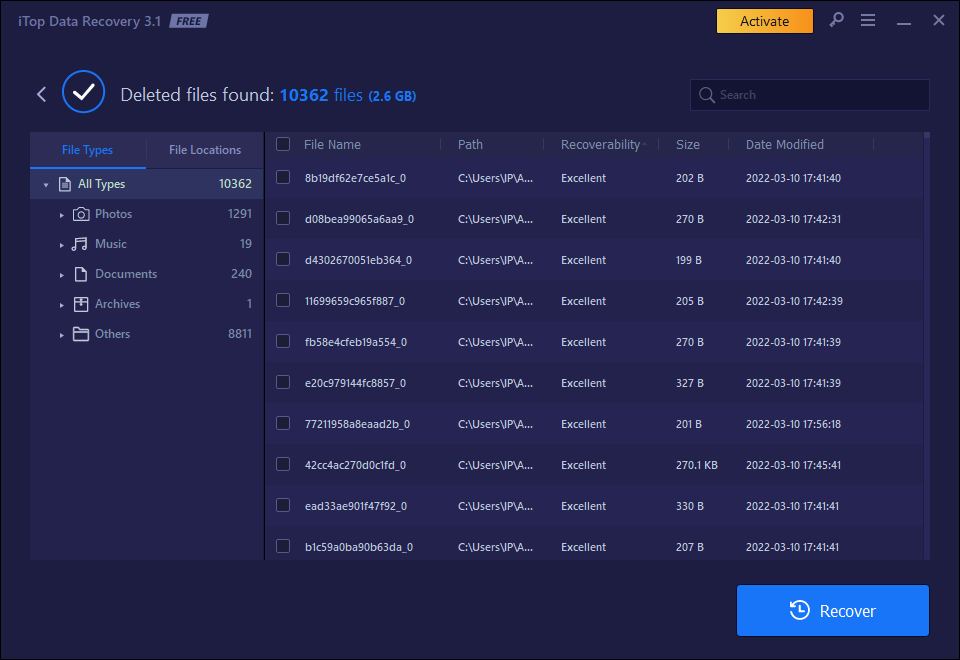 ITop Data Recovery has a number of additional functions.
A clean, contemporary app interface.

Recover more than 1000 kinds and formats of files, including as emails, photographs and videos.

A preview of the file is available.

It doesn't take up a lot of space on your hard disk since it has a low load capacity.

specifying the files to be restored by name or type

Data may be retrieved and restored even if the hard disk is damaged or has been recently formatted.

In addition, there is a "deep scan" feature.

NTFS, FAT32, RAW, FAT16, exFAT, HFS+, HFSX, APFS, and other file systems are also supported.

Recovery of a lost disk partition and the data it contains.
How Does iTop Data Recovery Make It Simple to Recover Deleted Files?
Because of the program's simple user interface, recovering files is a cinch. People who do not understand English well will benefit greatly from iTop Data Recovery's ability to handle other languages, including Japanese.
Using the iTop Data Recovery program, you may quickly and reliably recover lost data or remove files that have been accidentally deleted. There are several processes to follow based on the desired application. 
If you're looking for data that was accidentally or maliciously erased, follow these steps:
Step 1: It's free to download and install this data recovery software from the official website.
Step 2: You'll see the iTop Wizard interface when you open the software. To proceed, click "Scan."
Step 3: The next step is to decide where you wish to conduct your data search. Make your selection by clicking on the appropriate option. Check "Enable Deep Scan" if you wish to do a thorough scan. The application will do a Normal scan by default if you don't pick anything else. To begin the scan, click "Scan."
Step 4: Information about the deleted files will be presented when the scanning application completes.
Step 5: The file you want to recover may now be selected, and the "Recover" button can be clicked.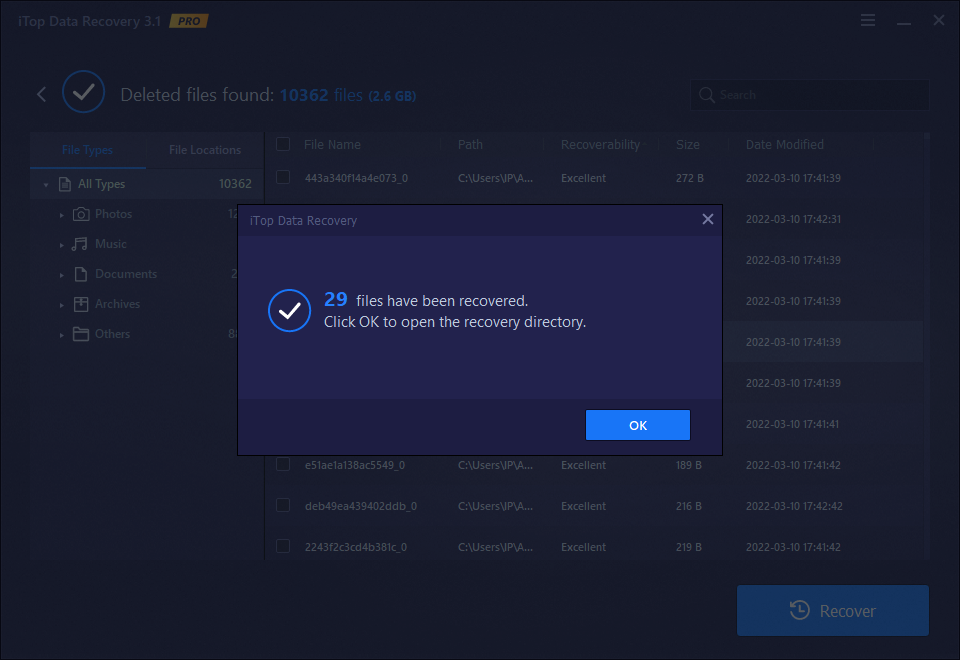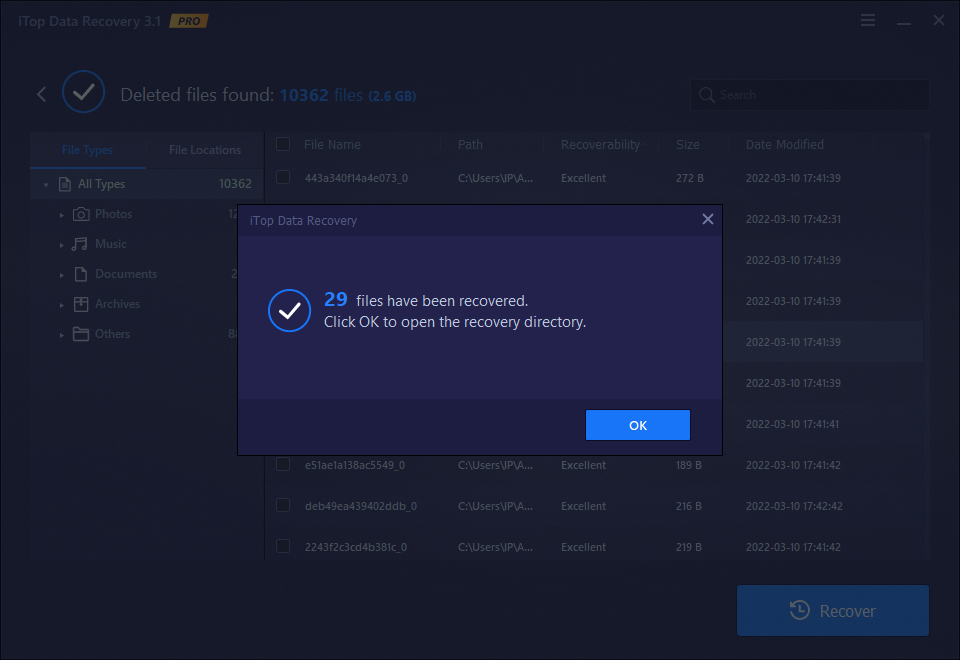 Wrap up
iTop Data Recovery is an excellent solution for regaining data that has been lost due to human mistake, a virus assault, or a hardware failure. Recovering lost files from the recycle bin has never been easier. You may use it to retrieve just about any file format from any number of different file systems. The software is capable of recovering data from a wide range of file types, including audio, video, picture, and document files. If you are also trying to find a quick and easy way to get back deleted files from the recycle bin, there is no doubt this data recovery software will be your best choice to have a try. Download iTop Data Recovery and recover all lost files now.