As a tech blogger or video creator, you may always be on the lookout for powerful video-making tools to help you make video tutorials as detailed as enough for viewers even beginners can easily know what your video talking about. So when I came across iTop Screen Recorder, I was surprised. This screen recorder is truly impressive. It has a wealth of features, including an advanced audio setting, screenshot tool, and built-in video editor. Consequently, it is a great choice for anyone who wants to record PC screen activity. Check out iTop Screen Recorder if you're also looking for an easy-to-use and powerful screen recorder. 


What Makes iTop Screen Recorder the Best?
Free To Download And Light Weight
iTop Screen Recorder is a free desktop recorder that you can use to record any area of your screen. It's a great alternative to more expensive screen recording software, and it's easy to use. To save your space, this screen recording tool is a lightweight software that doesn't consume many resources of your system. 
The best part about this software is that it is completely free to download when compared to other popular screen recorders on the market. Screen recording can be used to create tutorials, capture gaming sessions, or record a presentation, among other things. The iTop screen recorder makes it very simple to record whatever is happening on your computer screen and save it in any format you want.
The best thing about iTop screen recorder is that it is extremely easy to use which is very friendly to everyone even computer beginners can easily reach every function from this concise interface. You can start recording any area of your screen with only a few clicks needed. After recording process finished, you are also able to add annotations and voiceovers to your creations to make them even more informative and engaging and share with the one you want they to know. 
Record Any Area Of The Screen
In some cases, you may only want to record a portion of your screen rather than the entire thing. There is one smart function as a crop function to select and record any region of screen activities on windows. First of all, you can choose the portion of the screen you want to record. After that, use the "crop" tool to crop it out. All you have to do is click and drag according to your needs. The recording process will begin when you select the region.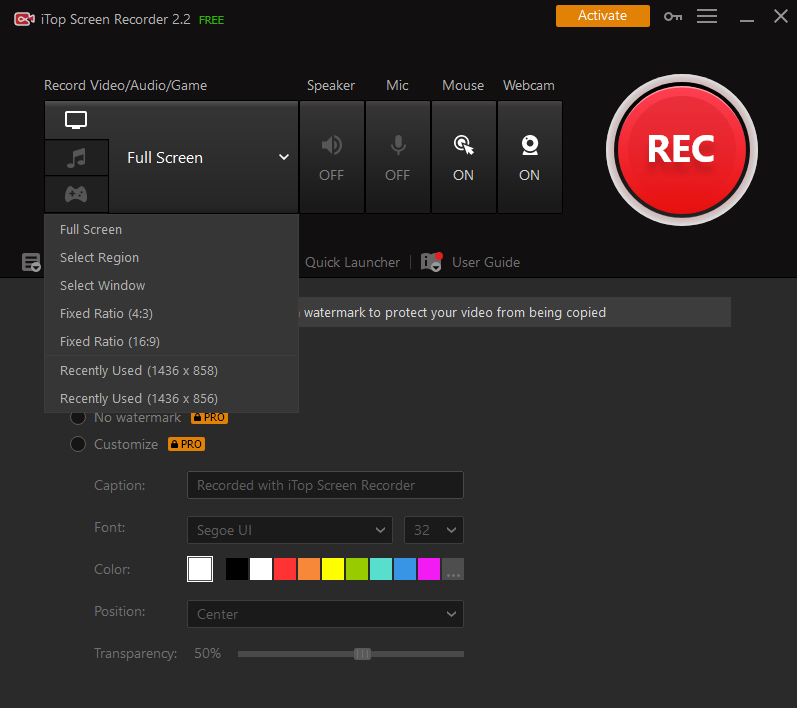 iTop Screen Recorder is very user-friendly with time limitation. Surprisingly, you are able to record any area on the screen with no time limit.  You can recorder all PC activities with this screen recorder for PC as long as you want. If you are looking for a way to record your screen without any limit, then iTop Screen Recorder is the tool you need. It's also the best screen recording tool for windows without watermark. 
To Sum Up
Whether you need to capture a video or an image, this program makes it simple to obtain the necessary footage. iTop Screen Recorder is a powerful tool for anyone who wants to record their screen because of its simple interface and extensive feature set. Simply click and drag to record the portion you want. We hope you find this informative blog about iTop Screen Recorder useful.